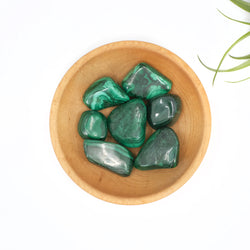 Common Ground
Mini Malachite
We love the emerald coloring and incredible banding on these mini malachites. 
Spiritually, malachite is known for helping to access the wisdom of your elders. It encourages rational thought and helps guide one through tumultuous times. 
These mini tumbled stones make great pocket stones and are sized nicely as additions to an altar or crystal grid. 
Each mini stone is completely natural and free of dyes or synthetics. Each is one of a kind in size, shape, and coloring. Note that these things will vary from stone to stone. We promise to pick a beautiful one just for you.

Ready to ship! (What does that mean? Check our FAQ to find out...)