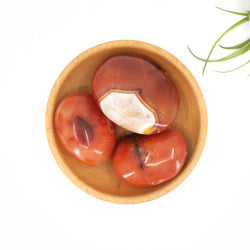 Common Ground
Carnelian Palm Stone
Simply the best quality carnelian we've ever offered. 
The sunset stone of Carnelian was named so by the Ancient Egyptians who marveled at the collection of fiery hues simmering in shades of burnt orange and pale pink. Carnelian is something of a soul stirrer, ever ready to cleanse away the day and re-invigorate your strength with the promise of something new. A stone of sexuality, fire, energy, and creativity. 
Each palm stone is completely natural and free of dyes or synthetics. Each is one of a kind in size, shape, and coloring. Note that these things will vary from stone to stone. We promise to pick a beautiful stone just for you.

Ready to ship! (What does that mean? Check our FAQ to find out...)